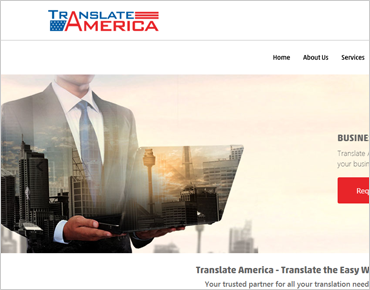 Client:http://translateamerica.com/
Date: 2016-05-23
Info:

Translation and Localisation
View Project
Project Status: Completed
We Develop Dynamic Website Design For Translate America
About Translate America:
Translate America LLC caters to the ever increasing translation need in a simple and efficient
manner with global offices. Our translation team consists of efficient project managers and native-speaking
translators with over 5-10 yeas of work experience. We make translation economical and
super easy for individuals and businesses and serve an extensive market that includes small,
medium, large companies, nd individuals. Whether your translation need is as small as one page
or as huge as a hundred thousand words, we have a simple and transparent solution for you at
economical costs. At Translate America we offer you only one level of translation quality which is
the BEST.